Attorney Sluice is Exclusively a Legal Marketing Agency
.
We Help Attorneys and Law Firms Get More Clients and Grow Their Legal Practices.
sluice [sloos]
noun:
Also called a "sluice box" in gold mining. A long, sloping trough with grooves on the bottom into which water is directed to separate gold from gravel or sand.
Not Another "Big-Box" Marketing Agency, and Proud of it.
Our business model is not the typical "turn and burn" agency that many of our prospective clients come to us from. We want to become partners and build relationships with our clients.
When you do well, we do well. Attorney Sluice is built on "win-win" partnerships.
We'll earn your business month after month
We work exclusively with attorneys
Simple, straightforward progress reports
You'll own your website and all the content
We won't work with your competitors
Communicate with an owner, not an "account manager"
A Digital Sluice Box for Your Law Firm
.
There's a modern day gold rush going on right now and we're here to help you get your share of it. The advent of the sluice box allowed miners to increase their gold recovery and production 20 fold. Consider us your digital sluice.
Think of how a sluice box works in a river. It uses water and gravity to separate gold from gravel and sand. We use the same idea and principles. Except instead of gravity and water, we use digital marketing tools and instead of gold, we deliver new clients month after month (good as gold to your legal practice).
Learn More About Our Process
Get Found
.

Build Trust

.

Grow Your Legal Practice

.

For digital marketing to be effective, you need multiple elements to work together.
The key to a successful digital marketing campaign lies in blending prominent online visibility with a solid digital brand and reputation. One that fosters trust among your potential clients across the entirety of the internet.
That's where our proven process comes in, developed for attorneys and law firms over the past 10 years. We've tested and perfected our process, and proven that we can replicate its success for attorneys in different markets across the U.S.
Retention Through Results, Not Contracts.
We're not "salespeople." In fact, we don't employ any salespeople and we don't do contracts. We believe our work speaks for itself and we want to prove it to you. It's how we've managed to retain roughly 90% of our clients year after year. We want to become partners and build relationships with our clients, not lock them into a contract that only benefits us.
When you do well, we do well. Attorney Sluice is built on "win-win" partnerships.
Successful Campaigns Launched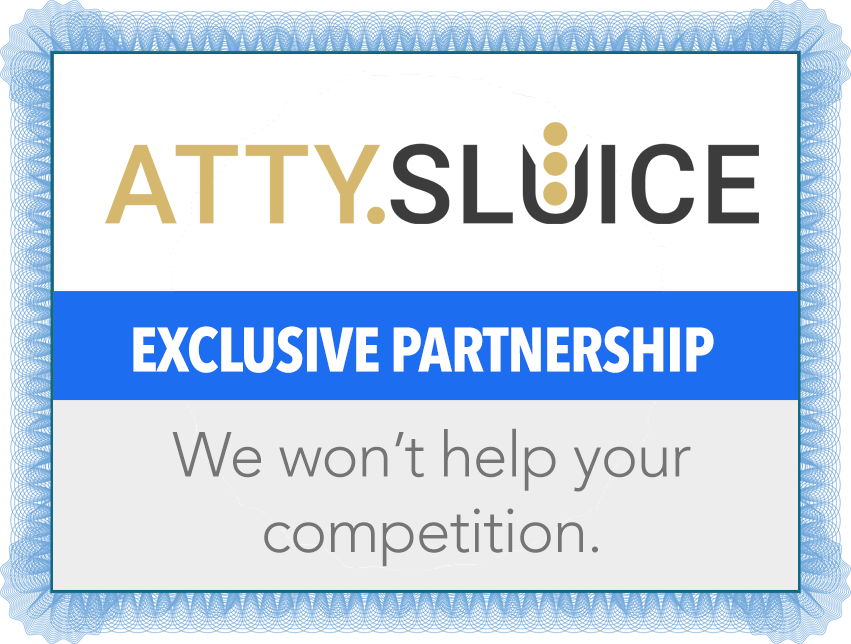 We Won't Help Your Competitors.
We only take one client per practice and geographic area. Period.
We are not a "big-box" marketing company and we're proud of that. We're all about building long-term partnerships with our clients. A big part of that relationship is never helping your competition.
We want you, and you alone to dominate your market.
A Few of the Law Firms We've Helped
We're Proud Google Certified Partners
As certified Google Partners, we're well-versed in all things Google. This includes Google Ads (pay-per-click advertising, or PPC for short), Analytics, Display Network and YouTube video advertising. As a Google Partner we must manage an ad spend of at least $10,000 every 90 days and continuously meet Google's standards to maintain our partner status. Being a Google Partner means consistently delivering quality service to all of our clients, which in turn provides them with a competitive advantage.
READY TO GROW YOUR LEGAL PRACTICE?
LET'S TALK – No confusing reports or industry jargon. Just simple, straight talk about how we can start getting you more of your best clients.
Get a Free Consultation