Advertising legal services is competitive and only getting more so. Lawyers who want to stand out and grow their legal practice should be looking to leverage every available marketing tool available to them.
While digital marketing for attorneys has become increasingly important, Google's Local Service Ads (LSAs) can be a game-changer for attorneys looking to attract new clients.
In this guide, we'll explore the benefits of Google local service ads for lawyers and law firms and provide actionable tips for effectively using this powerful advertising platform.
Introduction to Google Local Service Ads
What are Local Service Ads?
Local Service Ads are a type of pay-per-lead advertising offered by Google, designed to help local service providers (including lawyers) connect with potential clients in their geographic service area. These ads appear at the top of Google search results and prominently display your law firm's name, phone number, reviews, and a "Google Guaranteed" or "Google Screened" badge where applicable.
How do Local Service Ads Work for Lawyers?
LSAs target users who are searching on Google for legal services in your area, increasing the likelihood of attracting relevant leads. When a user clicks on your ad, they can either call your legal practice directly or visit your LSA profile for more information. You only pay when a potential client contacts you through the ad, making local service ads a cost-effective marketing option.
Benefits of Using Google Local Service Ads for Lawyers and Law Firms
Some key benefits of Google Local Service Ads for Attorneys include:
Instantly increasing your online visibility by placing you at the top of Google search results (even above the standard pay-per-click ads). This makes it possible for you to be listed on page 1 of Google up to 4 times now. The LSA position, standard PPC position, Google Maps (sometimes called the "3 pack"), and the regular organic search results.
LSAs can offer an excellent return on investment as they operate on a pay-per-lead basis, rather than the traditional pay-per-click model utilized by Google Ads. This approach ensures that you only pay for leads directly resulting from the LSA, which tend to be highly convertible and action-oriented. Moreover, if you believe any charged leads are not relevant, you have the option to dispute them with Google, further increasing the ROI of your Local Service Ads campaign.
Enhanced trust through "Google Guaranteed" or "Google Screened" badges which can increase the number of new client calls your ads are getting.
Eligible Practice Areas for Google Local Services Ads
Not all legal practice areas are available to run local service ads. Below is a list of practice areas that are currently eligible:
Bankruptcy Law
Business Law
Contract Law
Criminal Defense Law
Disability Law
DUI Law
Estate Law
Family Law
Immigration Law
Intellectual Property Law
Labor Law
Litigation Law
Malpractice Law
Personal injury Law
Real estate Law
Tax Law
Traffic Law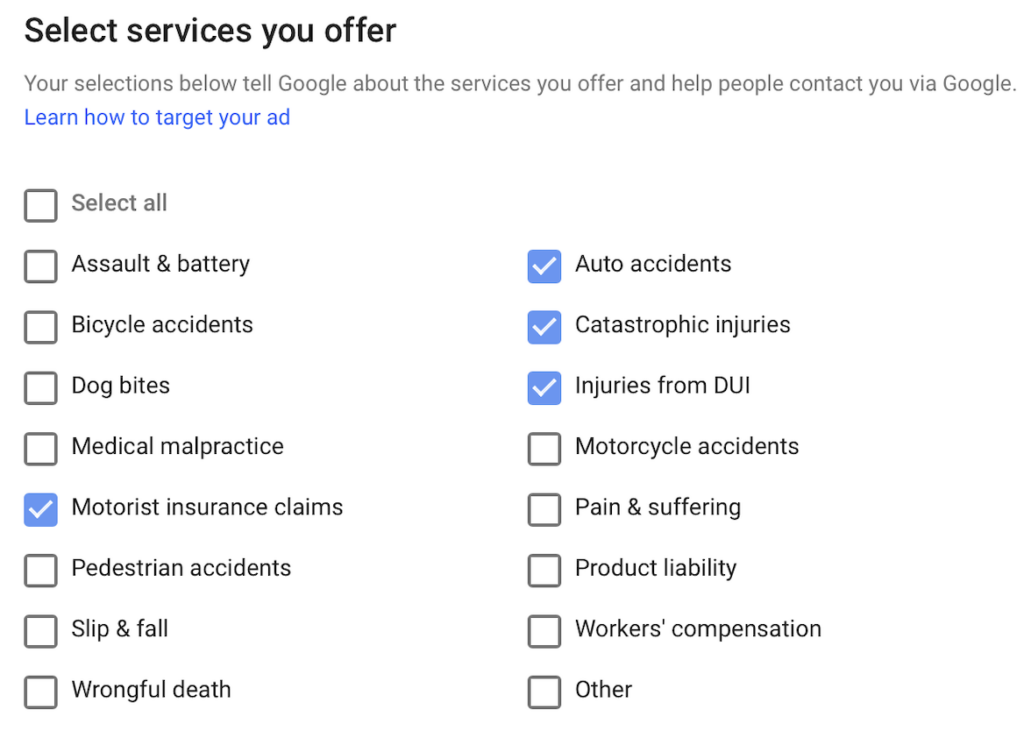 When setting up your local service ads, Google provides an option to specify your services within these areas of practice so that you can target the types of clients and cases you want more specifically.
For example, if you are an estate planning attorney, Google will enable you to select specific types of estate law such as probate, wills, and power of attorney to name a few.
Difference Between Google Local Service Ads and Traditional Google Pay-Per-Click (PPC) Ads
Google Local Service Ads (LSAs) and traditional Google Pay-Per-Click (PPC) Ads are both online advertising options offered by Google, but they have distinct differences in terms of their structure, targeting, and pricing models. Here's a comparison of the key differences between LSAs and traditional Google PPC Ads:
1. Ad Placement and Appearance:
LSAs appear at the very top of Google search results, above traditional PPC Ads and organic listings. They typically showcase the business name, phone number, ratings, reviews, and a "Google Guaranteed" or "Google Screened" badge (when applicable).
Traditional Google PPC Ads on the other hand appear below LSAs and are marked as "Sponsored." They often include a headline, description, and display URL. While they also offer a "call now" button on mobile devices, when clicked on desktop they most often take a visitor to your website or specified landing page.
2. Targeting:
LSAs target local users searching for specific services in a particular geographic area. They are designed to connect local service providers (such as lawyers) with potential customer and clients nearby.
Traditional Google PPC Ads allow for broader targeting options, enabling businesses to reach users based on demographics, interests, search queries, and more.
3. Pricing Model:
LSAs follow a pay-per-lead model, where businesses only pay when a user contacts them through the ad (via phone call or message). This ensures that advertisers only pay for genuine leads.
In contrast, traditional Google PPC Ads operate on a pay-per-click model, where businesses are charged for each click on their ad, regardless of whether it results in a lead or not. This is why it is imperative that you track conversions on your traditional PPC campaigns also.
4. Verification and Trust:
LSAs can feature a "Google Guaranteed" or "Google Screened" badge for attorneys that pass a screening process. This process includes verification of your bar status and a background check. These badges help build trust with potential clients. Traditional Google PPC Ads do not have this feature.

5. Ad Creation and Management:
LSAs are relatively simple to create and manage, as they require no ad copy and instead focus on accurate business information. Traditional Google PPC Ads however require crafting ad copy (headlines and descriptions), selecting keywords, geographic area targeting, and setting bids among other aspects of campaign management.
Google Local Service Ads are designed to help local service providers (such as attorneys) connect with potential clients in their area, while traditional Google PPC Ads offer more extensive targeting options and require more hands-on management.
We've found that a combination of the two methods are ideal to maximize your visibility on page one of Google.
Each advertising option has unique benefits.  By appearing on page 1 of Google multiple times, you appear to be the local expert without ever having to say so. Most often this leads to an increase in overall conversion rates, providing a higher return on your digital marketing ad spend.
Setting up your Account and Getting Started with Google Local Service Ads
1. Create a Google Local Service Ads Account
To get started you'll need to create a Google Local Service Ads account. Visit the Google Local Service Ads website and click "Get started."
2. Fill Out and Submit the "Eligibility" Form
LSAs are not available for all local services on Google. Therefore, before proceeding, you must provide eligibility information to inform Google that your local service is among those supported by their ads. To do this, select your country, state, and ZIP code, and then choose "Law" from the job category drop-down menu.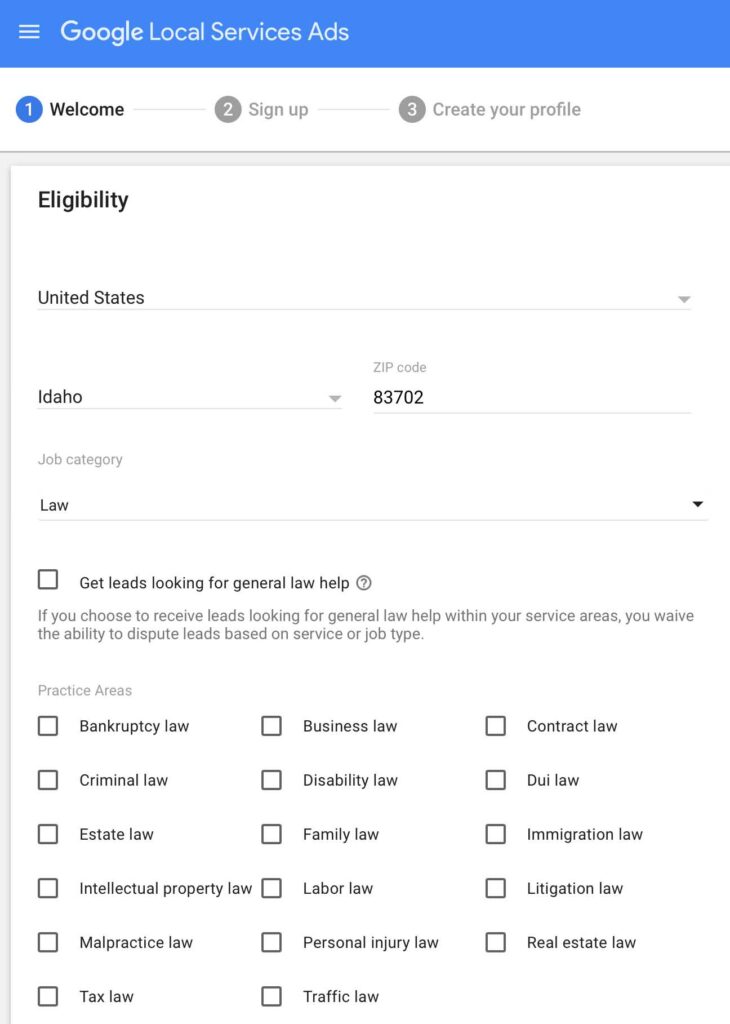 3. Enter Your Law Firm's Details
Fill out your LSA profile with accurate information, including your law firm's name, address, phone number, and website.
It is also necessary to inform Google whether this is a physical location that customers can visit in person. In the case of most law firms, the answer will likely be yes. However, if you operate remotely, or out of a home office, you may want to select "no" to prevent users from seeing your location details. Your law firm will still be visible in the LSAs, but the ad will not display a physical address.
4. Specify Your Service Area(s)
To indicate your service area, you need to select the relevant ZIP codes. Google will initially choose the ZIP code you entered on the business information page, but you can modify it or add other ZIP codes as necessary. Simply search for a location in the search box and then select or deselect any relevant ZIP codes.
Keep in mind that you do not have to limit yourself to the town or city that your office is in. Include all geographic areas that you are wanting to target potential clients in. Your LSA ads will be shown in the areas that you designate.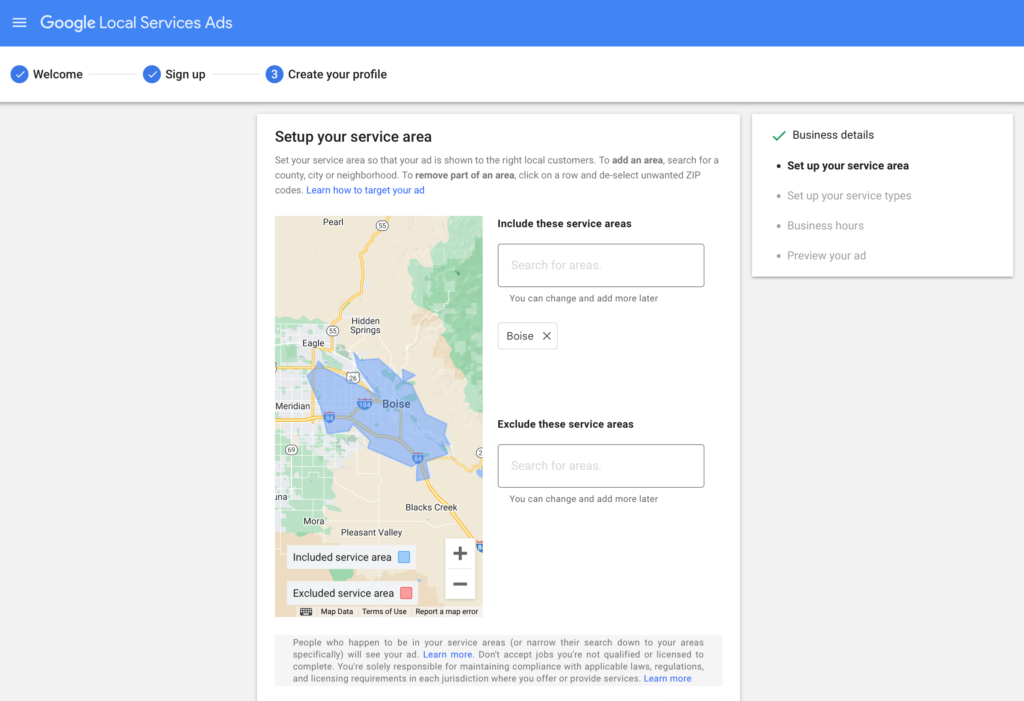 5. Choose the Types of Cases You Would like to Target with Your LSA Ads
Next, you will be asked to choose the specific case types/practice areas that you want to show your local service ad for. Google gives you a list of available options. Take the time to review the list and determine which case types are most relevant to your law firm, and or the most ideal for you.
Although you have the option to select all case types, it is important to note that each lead generated by the ad incurs a cost. Therefore, if you are a personal injury lawyer who does not handle medical malpractice, be sure to leave that box unchecked.
6. Set Your Business Hours
At this point, Google will prompt you to establish the days and times when you are able to respond to prospective client inquiries. Keep in mind that whatever times you set here will be the times when your LSA ads will run.
It is possible to set your business hours to be 24/7, but only choose this option if you are truly capable of answering phone calls around the clock. It is also important to understand that you will be charged for leads that come in during your indicated business hours, even if you are unable to answer the phone.
Additionally, if prospective clients are unable to reach you, Google may penalize you by lowering your position in the LSA listings, so always be sure to prioritize answering your phones when your LSA ads are running.
7. Preview Your Ad
At this point Google will show you a preview of what your local serve ad will look like. Scan it for errors and if none are found click "next."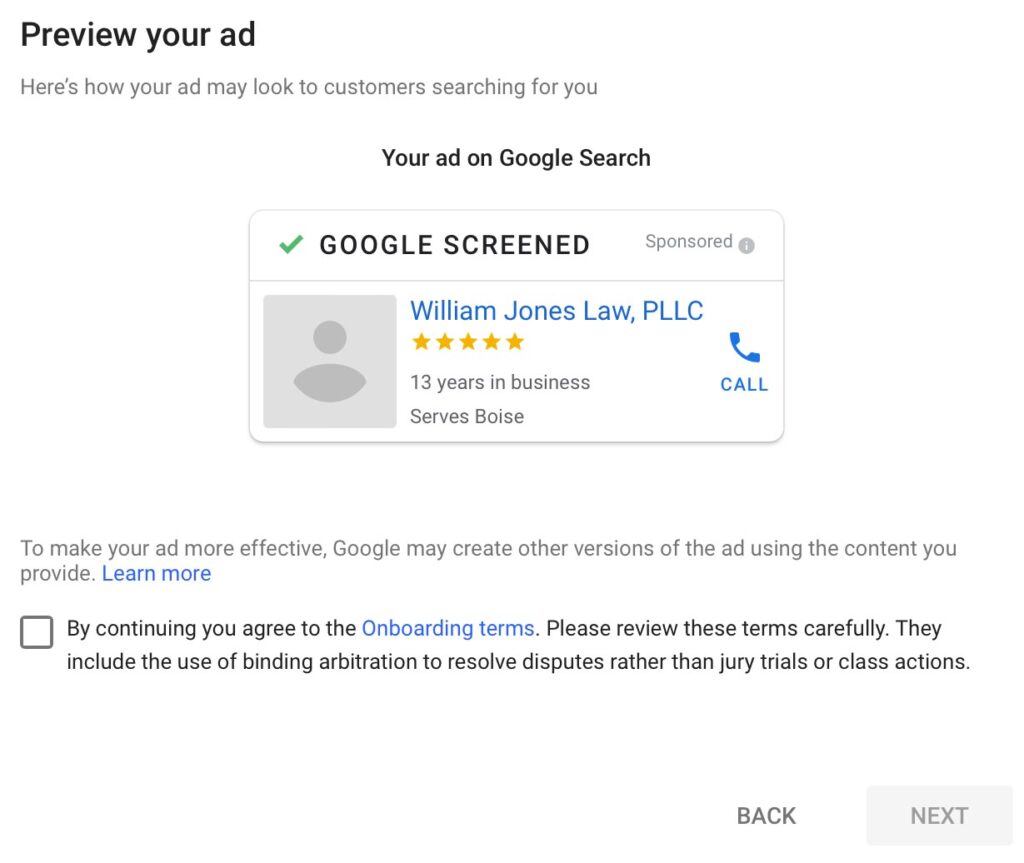 8. Add Your Picture to Your Local Service Ad
You will now be at your main "business verification" dashboard and you will see a list of tasks that need to be completed so that your local service ads can start running. The first is to provide your headshot so that it can be added to your LSA ads.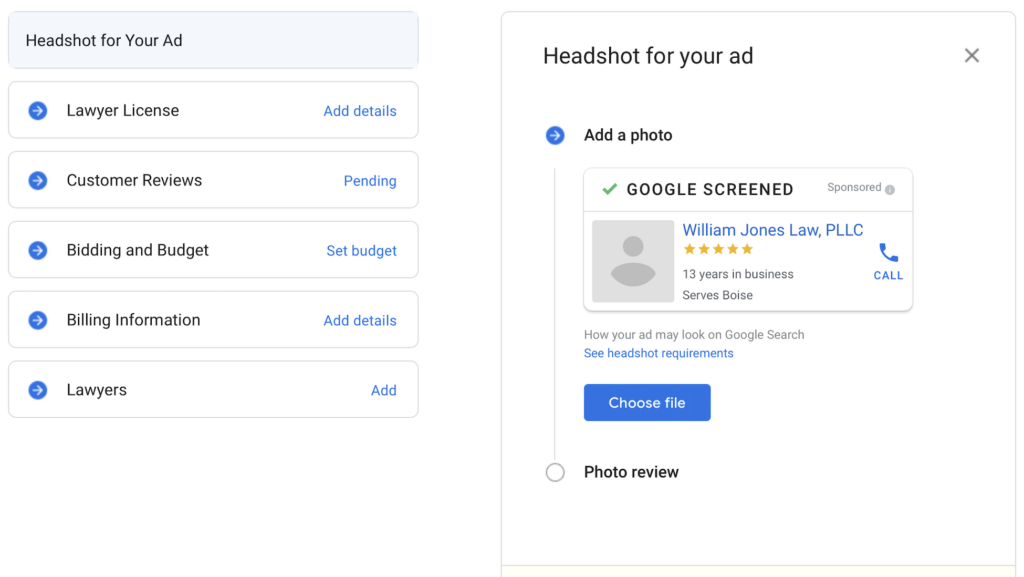 9. Enter Your "Business License" Details
In this section, you will be required to provide information about your law license. You will begin by specifying your license registration type, which should be an active bar membership in your state(s). Then, input your first and last name, license number, and the expiration date of your license.
After providing the necessary details, save your progress. Google will proceed to verify your license information before publishing your LSA. The verification and background check procedure may take up to two days, although it is typically completed much sooner.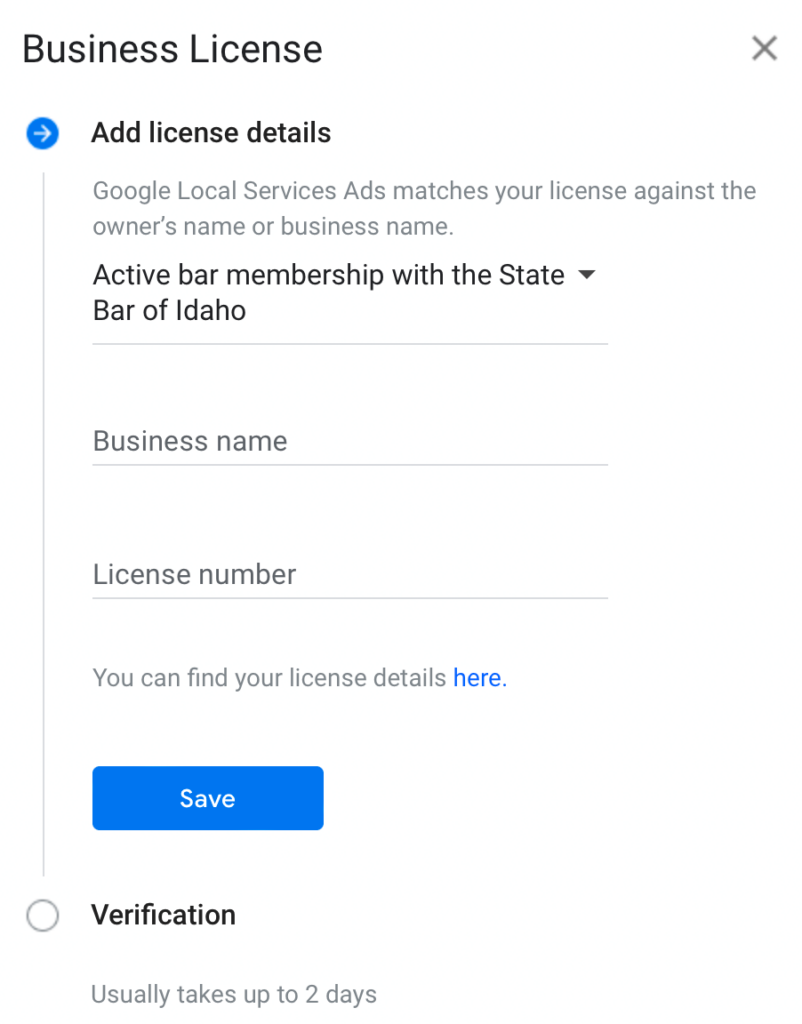 10. Link Your Google Business Listing to Your LSA Account to Display Your Reviews
During this phase, you have the option to include customer reviews in your LSA. These come from your Google Business Listing. If you already have a Google Business Listing your reviews will be automatically transferred when you connect the accounts.
If you don't already have a Google Business Listing, you'll want to create one and start getting reviews to it.
Reviews are one of the few things that can make your Local Service Ad stand out from other attorneys in your area. These reviews go a long way in helping prospective clients choose you over your competitors.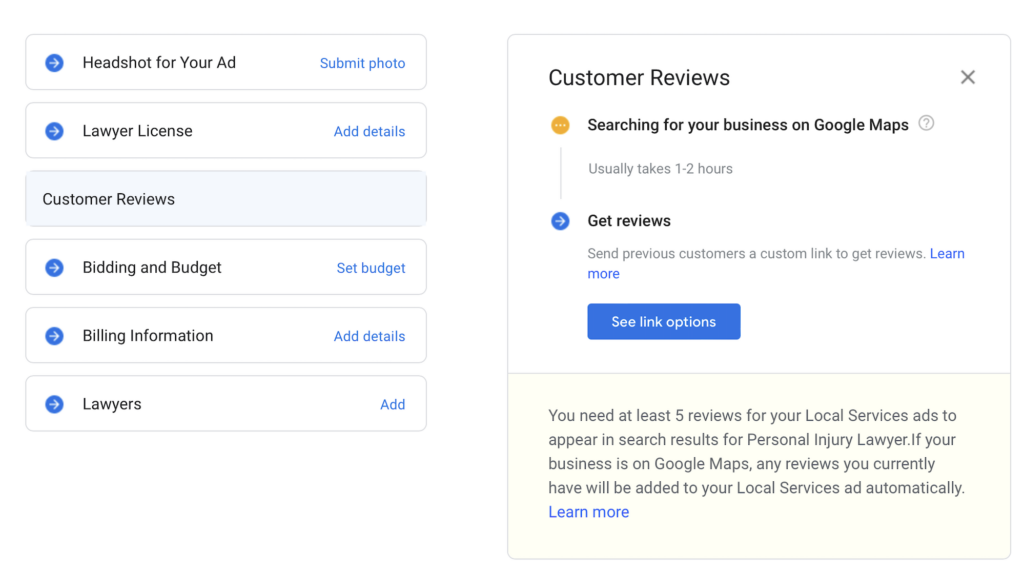 11. Set Your Bidding Type and Weekly Advertising Budget
There are two primary bidding modes to acquire leads:
1. Optimize for leads. Google recommends this approach, which enables Google to automatically adjust your bid to obtain the highest number of leads within your budget. If you prefer a low-maintenance option, this is the ideal choice.
2. Set maximum bid per lead. This alternative necessitates a bit more involvement in managing your bids. You'll need to manually input your bid, specifying the maximum amount you're willing to pay for leads in your service categories. Determining the right bid amount can be difficult if you're new to LSAs, but a useful tip for initiating the manual bidding process is to set your minimum bid at zero.
Google will inform you that this is not feasible and provide you with the lowest acceptable bid amount. This figure will serve as a rough starting point for your bids which can be adjusted later if the LSA isn't generating the desired number of leads or ROI.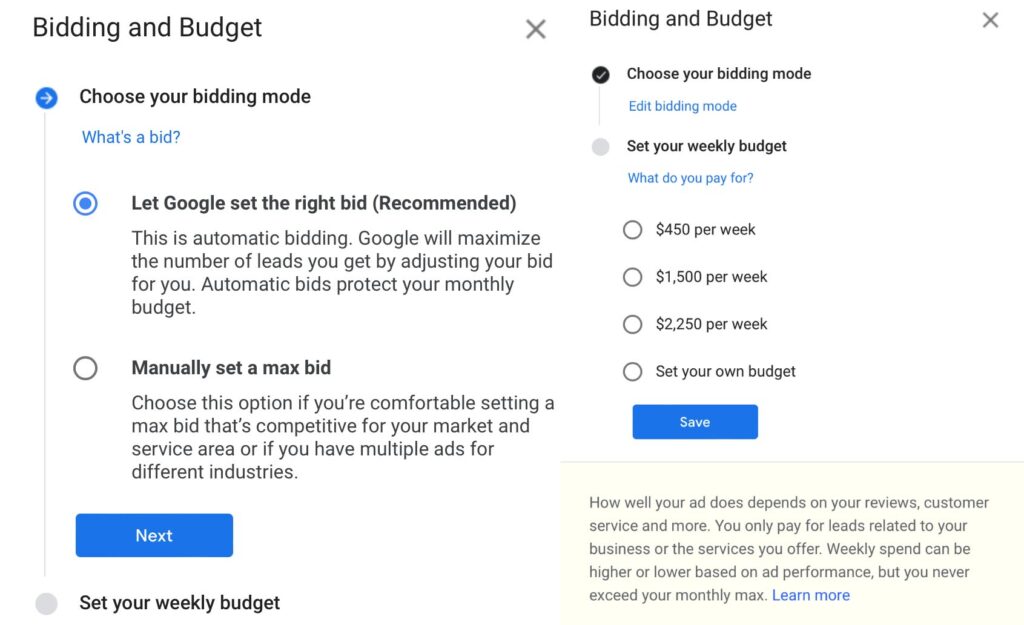 Google Local Service Ads is one of the most effective digital marketing platforms available currently. In just a few short steps, you can be setup and ready to start running ads for your legal practice or law firm.
Local Service Ads offer lawyers a powerful, cost-effective way to attract new clients and grow their practices. By understanding how Local Service Ads work and integrating them into your overall digital marketing strategy, you can harness the full potential of LSAs to achieve significant results. So don't wait—start using Google LSAs today and see for yourself the growth they can bring to your law firm.
If you have any questions at all about setting up your Google Local Service Ads, don't hesitate to give us a call. We're always happy to help!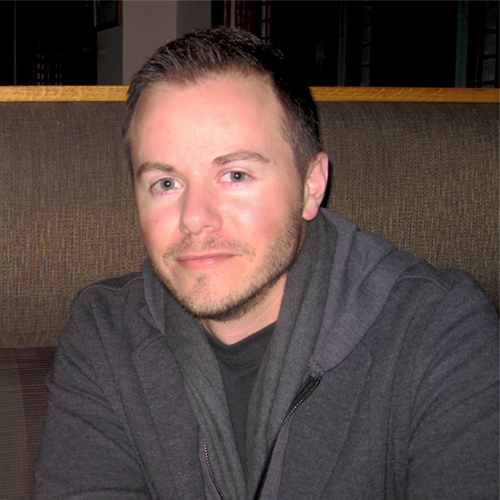 About the Author
Chris is a digital marketing consultant and has been helping attorneys and law firms grow their revenue and scale their legal practices for the past 13 years. His areas of expertise are in content marketing, search engine optimization (SEO), pay-per-click (PPC), digital branding, and conversion rate optimization (CRO).