PPC + SEO = a match made in marketing heaven.
By combining pay-per-click (PPC) with search engine optimization (SEO) you capture a bigger percentage of searchers, with the ability to be on page one of Google up to three times. This includes the AdWords position, Google Maps Listings (3 pack), and the organic results.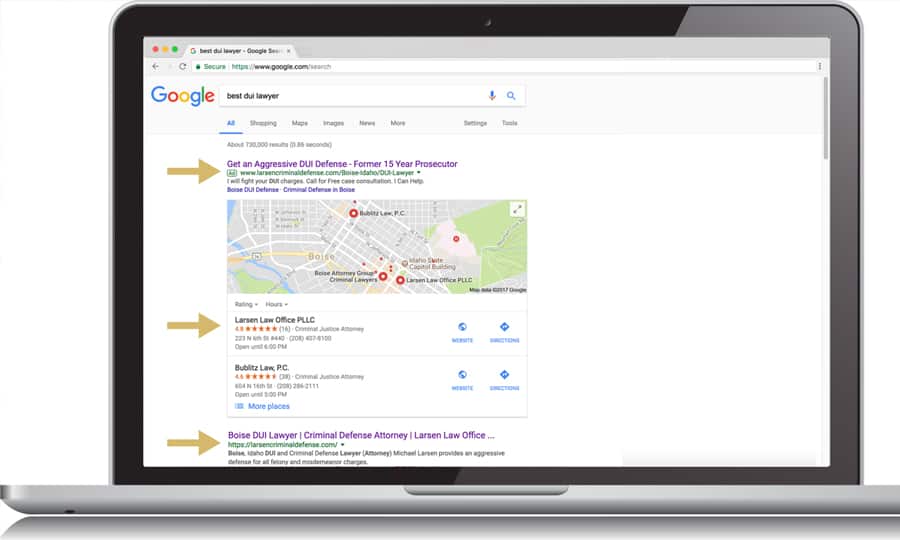 Get 100% of Search Traffic
Having a digital marketing campaign that combines SEO with PPC is not only necessary for achieving prime listing positions, it's now the only way to maximize traffic and conversion opportunities.
On average, 15% of clicks go to the top 3 paid ads on the search results page. So, if you're only running a PPC campaign, that leaves about 85% of your potential clients that likely still won't find you.
Google has for years been making search ads and organic listings look more and more alike, to the point now where they are nearly identical. This is only working to increase the percentage of people who click on a PPC ads instead of an organic listing.
Increasing Brand Awareness
For any business, it is important to build up your reputation and brand and SEO and pay-per-click (PPC) are great ways to gain a lot of online visibility. Combining well-targeted PPC ads while ranking highly on those same keywords organically means that you are providing two access routes for potential customers while also creating a sense of authority around your business.
Search ads can increase brand awareness up to 80% according to Google. While this is less tangible, we've seen it proven true time and again. By dominating page one of Google, it portrays a message to potential customers that you must be the best, gaining you instant credibility.
People have become more and more conditioned to believe internet resources like Google. The whole "if it's online, it must be true" thing, whether fair or not, is a factor. The good news is that this can lead to higher conversion rates for you (i.e. more customers, clients, and sales).
Gaining Valuable Insights
Another fantastic advantage to running both an SEO and PPC campaign is leveraging data. Google holds back more and more organic (free) search information year after year. The great part about a PPC campaign is that you get a lot of very useful keyword data with it.
You can see exactly how many searches a particular keyword has received, how many clicks it received, and how many conversions (calls, contact forms, and sales) to your business it resulted in. This is hugely valuable when deciding what keywords to target for your search engine optimization (SEO) campaign.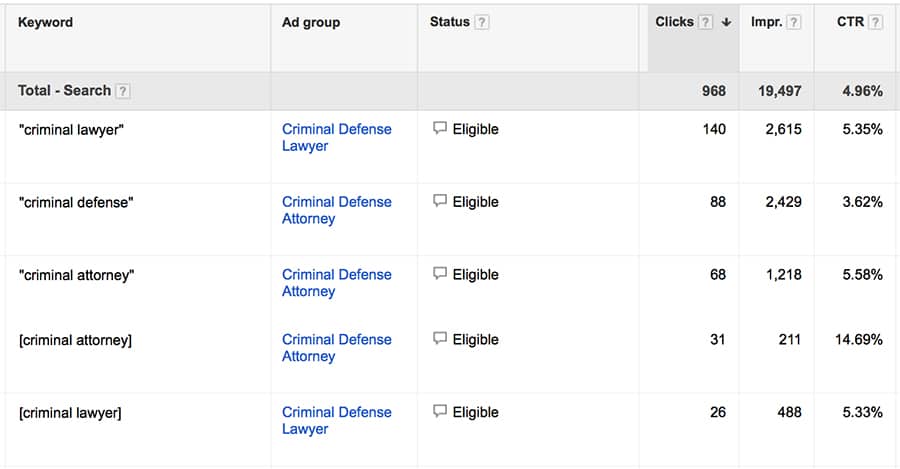 Faster ROI
Yet another advantage to running both an SEO campaign in combination with a PPC campaign is the length of time it takes to start seeing a return on your investment (ROI). According to Google, businesses make an average of $2 in income for every $1 they spend on AdWords. We've actually found that number to be quite a bit higher for many of our clients.
Achieving top search engine rankings through an SEO campaign can bring in a lot of new clients, but it takes time. Pay-per-click is immediate. By combining a PPC campaign with your SEO campaign you are far more likely to start seeing a positive ROI quickly, as opposed to having to wait months (or sometimes longer) for your organic rankings to reach page one with SEO.
Searchers Trust Organic
Exposure, Branding, & Awareness
High Volume Traffic
Great Long-Term Value
Immediate Results
Highly Measurable and Quantifiable
Highly Targetable
Highest Mobile Search Positioning
Conclusion
It's true that there is an element of chance in any digital marketing strategy, and there are never any real guarantees. But, that said, you can still greatly increase your odds of success by having a well thought out PPC and SEO strategy for your business.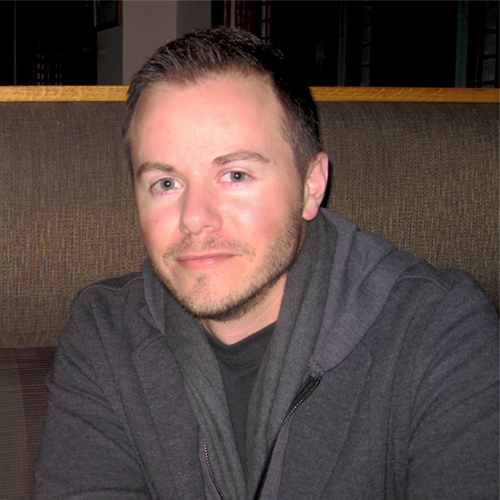 About the Author
Chris is a digital marketing consultant and has been helping attorneys and law firms grow their revenue and scale their legal practices for the past 12 years. His areas of expertise are in content marketing, search engine optimization (SEO), pay-per-click (PPC), digital branding, and conversion rate optimization (CRO).